After
arriving in Tokyo
, we settled in our hostel and immediately went out to experience the big city.
Day One:
The first thing we did when we settled in Tokyo was eat ramen! The ramen house near Asakusa Hotel was good sans an english menu. Good thing we are familiar with the names of Japanese cuisine, it was good enough to live by. Later did we realize that the waitresses speaks mandarin! They are from mainland China looking for greener pasteur in Japan. It's a sigh of relief to find people in foreign land that you could communicate with. In most restaurants in Tokyo, one orders at the table and pays at the counter after meal. When traveling with a group, it is also possible to pay your own bill (split the payment) at the counter. By the way, tipping in Japan is an insult.
ramen costs 500 yen and gyoza costs 250 yen
From our hostel to the train station, we always pass by Nakamise Market, several hundreds of touristy micro-retail shops are neatly lined up selling all sorts of goodies right next to the Sensoji Temple. The crowd was too much in the area, we didn't bother to look around on those kiosks. Instead, we went on the side streets, and spotted a store that had a big sign that says 50% OFF! I cannot help but succom to what I saw, almost all Le Sport Sac bags were sold at half the price and I came out of the shop with a big smile and three bags! Who says shopping in Japan is a no no?! It's one big lie. haha
In the evening, the streets were clean, quiet but seemed safe. Although a homeless or two lie on the street with radio on. We had to have a photo stop at Sensoji Temple since at day time, this place is just too crowded with tourists.
Sensoji Temple at night
Aside from Nakamise Market and Sensoji Temple, we were there to witness the Asakusa Samba Festival. My take on the Samba Festival? It's a far cry from our own Sinulog Festival, the audio was terrible, a live band would be more festive. I'm amused by the participation of the locals, some maybe in their 50's were bold enough to show off their humps and bumps in their thongs unmindful of the crowd along side the few Brazilian ladies who had humps to die for. I'm particularly impressed how organized the parade was, especially how they kept the barricades immediately following the last contingent, in a matter of minutes, the streets are clean just like any other day.
Asakusa Samba Festival
While the festival was going on, we ended up for an hour in a Phiten store. I'm no Phiten fan but ended up buying one. Phiten are sold at half the price in Japan compared to the retail price in the Philippines and hey, those rubber Phiten bracelets are in fact marked made in the Philippines! My marathon runner friend, bought a handful of bracelets and necklaces and sold them back home. He earned big enough to cover up half his airfare.
We were meeting the rest of the group at the foot of Tokyo Tower, so we had to rush and found our way to Onarimon Station, Mita Line. When you get out of the station, simply follow where the tower is. We got there in time but the tour leader came in late, so we missed the sunset by just a few minutes. :(
night view of Tokyo
Tokyo Tower's facade is everything like Paris' Eiffel Tower only13 meters taller. It gives you a 360 degree look at the whole of Tokyo and on a clear day, a view of Mount Fuji. Entrance to the main observatory costs 820 yen.
Tokyo Tower at night
To get to Tokyo Tower, you may take any of the following trains:
For more information visit
http://www.tokyotower.co.jp
Line
Station
Distance
Metropolitan Subway Oedo Line
Akabanebashi St.
Akabanebashi Gate
5 min. walk
Tokyo Metro Hibiya Line
Kamiyacho Station
Ext No.1
7 min. walk
Metropolitan Subway Mita Line
Onarimon Station
Exit No. A1
6 min. walk
Metropolitan Subway Asakusa Line
Daimon Station
Exit A6
10 min. walk
JR Yamate Line
Hamamatsucho St.
North Exit
15 min. walk


Roponggi Hills is said to be where the night life is. We did not know where to go exactly, our tired feet lead us to a restaurant called Tsukiji. It's probably bringing Tsukiji Market into the city, with it's chain of restaurants that serves everything Sushi (but I wonder why Sashimi is difficult to find in Japan). Finally, I get to have sha-ke (salmon). We had a good laugh at this restaurant as we foot the bill on our own, the money we pooled in was not enough. They billed us differently from what was on the menu, good thing I had a picture taken of what we ate! It was embarrasing to be counting all those coins over and over again and it's difficult to complain due to the language barrier; we wonder what the locals were thinking.
aaah, heavenly! first of the many salmon sushi I had.
sha-ke (salmon) roe overload
We attempted to walk around Raponggi Hills, noticeably, there is a good number of black guys giving out leaflets, offering some drinks. We tried to look for Hard Rock Cafe and spotted some hello kitty shirts! In Japan, they sell everything in Hello Kitty. It was quite pricey, so I settled with some Hello Kitty spoon and post-it at a hundred yen store nearby.
We didn't find anything interesting around Raponggi, it was a weekday, maybe most shops closed early and we were too tired to walk further.
Day Two:
Imperial Palace or the former Edo Castle remains to be the residence of the imperial family. The palace buildings is not open to the public
.

However, there are two viewing areas when visiting the Imperial Palace.
From Kokyo Gaien, the large plaza in front of the Imperial Palace, viewing is limited to Nijubashi, two bridges that form an entrance to the inner palace grounds. The stone bridge in front is called Meganebashi (Eyeglass Bridge) for its looks. The bridge in the back was formerly a wooden bridge with two levels, from which the name Nijubashi (Double Bridge) is derived.

The Imperial Palace East Gardens are open to the public throughout the year except on Mondays, Fridays and special occasions

.

The Otemon entrance to the East Gardens is a short walk from Otemachi Station on the Chiyoda, Tozai, Marunouchi, Hanzomon and Mita Subway Lines. It can also be reached in a 15 minute walk from Tokyo Station.
Akihabara is a haven for shopaholics of electronics and anime and manga. Although the goods are not necessarily cheaper, I for one, was amazed by the number of electronic shops and the volume of merchandise being displayed. Sofmap, Laox, Yodobashi Camera, and Ishimaru, are among the more famous chain of stores. If you're a gadget freak, visiting Akihabara will be a pain on the pocket. I bought a spare battery for my Panasonic GF1 and a filter for my pancake lens, which I could not find in the Philippines. I pushed my luck and realized it is possible to haggle with the price, I got a few yen off the price tag. Generally, foreign tourists get 5% discount when you present your passport in selected stores.
For a more detailed information about Akihabara, check out
www.japan-guide.com
.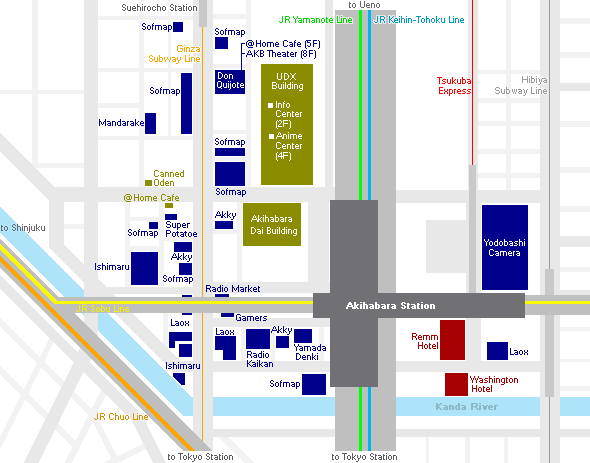 If you're not a gadget freak, like my two other friends, they opted to shop around for clothes like the good bargains at UniQlo.
UniQlo
is Japan's version of Gap and Giordano with reasonably priced clothing with good quality. Shirts can sell for as low as 250 yen. UniQlo outlets can be found almost anywhere in Tokyo.
Aside from shopping, there are several good restaurants around the area. We had a great tasting yakiniku in a restaurant inside one of the malls. Noticeably, beef ordinarily served in average priced restaurants in Japan is inexpensive and the quality of meat is really good. If you want to binge, you might want a serving of Kobe beef for about 100 US dollars.
all meat yakiniku for 1980 yen
Something we missed out was to check out cosplay themed cafe such as the maid cafe or the
Gundam Cafe
.
Late in the afternoon, we headed to Harajuku and again, my shopping buddies, errr travel buddies was again panicking with too much to see. Several branded stores especially sports shops, meet you upon exiting the subway station.
My to do list for Japan was basically composed of "what to eat" rather than "what to see", tips courtesy of
my friend sunjun
. We've ticked off okonomiyaki and takoyaki while going around Kyoto and we had ramen, sashimi, yakiniku, and the best tasting tonkatsudon (for breakfast) in Tokyo. In Harajuku, we found an interesting yakitori place, it's kinda cramped but the seats were occupied by locals, ergo, it must be good and indeed it was. We asked for "eigu" (english) menu, and thankfully they have. In a yakitori, you get to choose what you like by the stick, then they season it will salt and pepper and grill it right in front of you. The bill came out more than we've expected, we didn't bother to complain, just laughed about it and split the bill. I guess, the side dishes like shredded salads that they serve (without placing an order) aren't for free.
all sort of yakitori (skewered meat & veggies)
After dinner, we went around Harajuku station and ended up in Takeshita-dori. It's a narrow street famous for fashionable young people lined with local fashion boutiques and cafes with the latest street fashion. It was a weekday, so we only bumped into a few harajuku girls. Sundays is the best time to see them.
Wary to be out too late, trains might close before midnight and taking a taxi in Tokyo are way too expensive, we spent little time here.
Other interesting places (and people) to see in Harajuku would be:
branded shopping at Omotesando
see Harajuku's youth culture: Gothic Lolita or GothLoli or cosplay people watching on the bridge across the train tracks from Harajuku station upto Yoyogi park (on Sundays).
partying under the cherry blossom trees on springtime around Yoyogi Park, the largest park in Tokyo. By the way, there are "no seats" in the park.
see Tokyo's grandest shrine, meiji jingu.
Day Three:
Tsukiji Market
Tsukiji is the world's largest fish market (close on Sundays and public holidays). If you wish to witness the bidding, be there as early as 4 in the morning. Because of the overwhelming number of tourists that flock the area, that somehow has hampered their operations, the rules have changed recently. Restricting the number of tourists allowed to view the auctions and the wholesale markets. Apply at the Osakana Fukyu Centre (Fish Information Centre) at the markets as early as possible as people are accepted on a first come, first serve basis.
We did not bother to wake up early to witness the auction, instead, we went there for brunch. We lined up in a restaurant that serves everything sushi, it took too long to get a seat, instead, we wandered around the market, ate several street food like seaweeds, dimsum, fresh oysters and feasted on slabs of sha-ke sashimi and toro (fatty) tuna. There is an indoor space around the market where there are tables and seats available to feast on those fresh catch and a countless number of vendo machines are available for drinks. After consuming a slab of salmon sashimi all by myself, I swear, I won't be eating one for the rest of the trip or anytime sooner. But I guess, I ate my words, when I came home, in less than a week, I ordered salmon sashimi.
sha-ke (salmon) and otoro (fatty tuna) overload
Warning: like in any country, locals can take advantage of tourists. The fish vendor was trying to sell the medium fatty tuna at the price of very fatty tuna, good thing we had brochures from the restaurants nearby to compare with and I could recognize those Japanese characters (since they were written like Chinese characters); again, we had to argue with them in broken english and sign language! haha
According to wikitravel, Tsukiji's restaurants can be found in alleys of Building 6, reached by walking in from the main entrance and turning right at the central square. The following two sushi joints are very popular, so be prepared to queue on weekends (an hour's wait is typical) unless you get there very early. Smaller groups may be served before larger ones. Both make a point of serving only fresh fish that has never been frozen.
Daiwa Sushi

(

大和寿司

), ☎

03-3547-6807

,

5:30AM-1:30PM

. The larger of the two, so the queue moves faster. The standard omakase course is ¥3500 (7 pieces & 1 roll), and a cheaper ¥2100 version also available. Famous for their meltingly soft anago (conger eel).
Sushidai

(

寿司大

), ☎

03-3547-6797

,

5AM-2PM

.

¥3900 for day's set (10 pieces & 1 roll), of which you get to choose the last piece. They also have a cheaper ¥2500 version.
Note: Names of restaurants are written only in Kanji.
Inoue Ramen
After the trip, I learned that there is one must eat ramen buffet restaurant in Tsukiji Market called "Inoue". Prepare to line up with the fish vendors and tourists.
To get to Inoue Ramen one can take Hibiya metro line to Tsukiji. If you are coming from Ginza direction, get off from the rear exit and walk across the street. From Ningyo-cho, you can take the front exit and stay on the same side. You can walk in the direction of Tsukiji Honganji Temple Cross the first large crosswalk and you are in the outside market. Halfway down the block is Inoue Ramen. There are several other Ramen shops but Inoue has a large wooden sign in Kanji above the store.
Hachiko
Shibuya is a popular shopping and entertainment district of Tokyo. When in Shibuya, take the Hachiko exit. If you have not seen the touching movie, Hachiko is a loyal dog who waited for his master everyday in front of Shibuya Station and continued to do so for years even after his master had passed away (without it knowing). A statue was built here in memory of Hachiko.
The large intersection in front of the station's Hachiko Exit is in itself a prominent landmark. The intersection is heavily decorated by neon advertisements and gets flooded by pedestrian each time the crossing light turns green.



Shibuya intersection (check out the pedestrian)
Ueno
(

上野

)
is a district in
Tokyo
's
Taitō Ward
, best known as the home of
Ueno Station
and
Ueno Park
we frequently stop here to change line and eventually was tempted to shop at OIOI and at the three story anime store across the station.
anime
Ginza is undoubtedly the heart of shopping in Tokyo, as we exit the subway and set foot in Ginza, the ambiance simply shouts, "this is Tokyo".
Ginza
shopping map of Ginza
Aside from the Japanese department stores like Mitsukoshi, Takashimaya... mid to upscale fashion clothing flagship stores are located here, with the highest concentration of western shops. Most brands does not only occupy one space but one building with several floors. On Sundays, the main street is closed, thus, shoppers are free to cross the street from one store to another.
14,000 yen baum kuchem, pricey dessert to die for (at Matsuzakaya)
The Sony showroom was impressive with its interactive display of it's latest gadgets. Abercrombie & Fitch eleven story concept store was a party place and the model was simply hot hot hot!
Ambercrombie & Fitch hot model
Tokyo Disney Resort is an hour away from the heart of Tokyo. Anyone who has been to Disney in the USA or other countries, swears,
Tokyo DisneySea
is definitely something different. If only I was travelling with my family, I would have gone there, I'm one proud Disney baby.
Odaiba
(お台場) is a large artificial island in Tokyo, Japan, featuring many hyper-modern and just plain strange buildings memorably described as the result of an acid-soaked pre-schooler's architecture class. We would have wanted to proceed to Odaiba to see the rainbow bridge and Statue of Liberty but realized a different train ply that route not covered by our day pass. We were pressed with time, we are leaving for Osaka in a few hours and did not want to be left by the bus. If I miss the bus, taking the bullet train can be so expensive. So we decided to go back to the hostel and pack for Osaka.
a glimpse of Rainbow Bridge and Odaiba (top) from the Tokyo Tower
I guess, three days isn't enough to explore Tokyo, I've got more reasons to be back here.
Post trip accounting:
Transportation and tours:
Y4,740 3-day Tokyo Round Tour Ticket
Y 820 Tokyo Tower observatory fee
Meals (estimates):
Y 800 ramen and gyoza lunch at Asakusa
Y 900 all sushi dinner at Roponggi Hills
Y 250 chicken fillet breakfast at a convenience store at Asakusa
Y1,980 all meat yakiniku lunch at Akihabara
Y 250 mochi rolls
Y1,600 toriniku dinner at Harajuku
Y 250 crepe for dessert
Y1,500 a slab of sha-ke sashimi (Y3000 a slab of toro) for breakfast
Y1,200 chinese food lunch at Asakusa
Y 900 korean dinner at Asakusa
Y 800 tonkatsudon and mackerel for breakfast at Asakusa
Y1,400 italian lunch at Ginza
Y 400 slice of baum kuchen
Y 800 chahan and gyoza for lunch at Asakusa
Y 110 for every bottled water from the vendo
For pre-arranged day tours, check out
Japan Gray Line
:
Motorcoach side trip to Hakone & view of Mt. Fuji costs 11,000 yen (14,000 bullet train one-way)
Tokyo Grand Full Day Tour with sumida river cruise with lunch costs 9,700 yen
Talk of Town Day Tour with Odaiba and Tokyo Bay cruise with lunch costs 9,500
For side trip to Kawaguchiko, check
Backpacking Japan: Kawaguchiko and finding Fuji san
.
Next stop: Osaka.